Aakrit is an exhibition by Hitesh Vaidya, Jagdish Moktan, Nawina Sunwar, Pooja Duwal and Tashi Lama. These five artists formed their collective Aakrit Collective at Bhaktapur in December, 2019.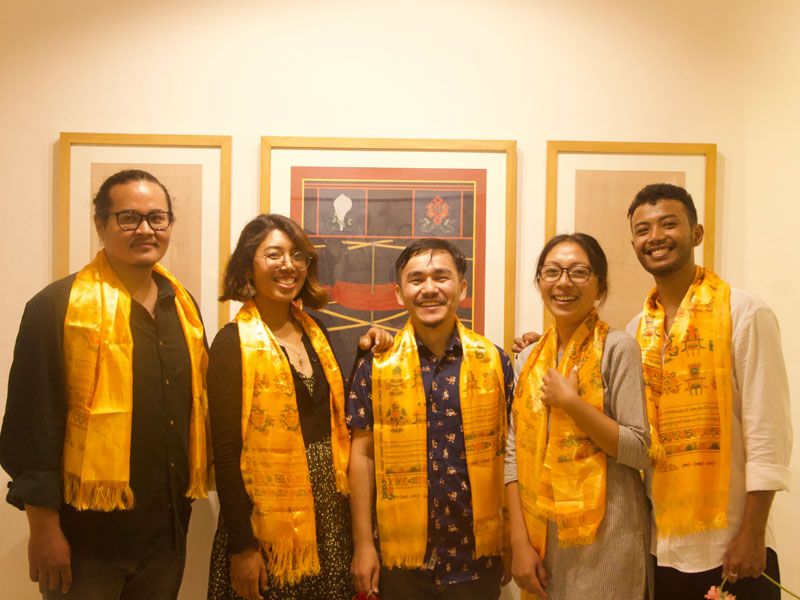 Aakrit Collective: Jagdish Moktan, Pooja Duwal, Tashi Lama, Nabina Sunuwar, and Hitesh Vaidya.
Hitesh Vaidya's latest works are made on thick agrath wooden planks that he has sourced from his neighborhood in Bhaktapur, where he was born. The choice of surface - wooden planks, old doors, and windows - connect to the traditional architecture of the space he grew up in. Hitesh's latest work marks a departure in his composition and the choice of the palette which references traditional narrative paintings. The artist has studied the Patachitra painting archives ranging from physical works to online resources. Hitesh has also been inspired by more recent works by artists like Bhaktapur-based senior artist, Surya Bahadur Chitrakar. In this exhibition, he has created a new visual vocabulary that is rooted in tradition while being imbued with the power to narrate the plight of urban change and loss in landscape that is dear to the artist. At the same time, they also narrate the nuances of the unique way of life he experienced growing up here. In his six paintings, the artist documents the spaces that are fast undergoing transformation, "lifestyle change" and the new occupations or pre-occupations of the people. Hitesh's works also explore the idea of the city as the home of the artist and a place that continues to nurture the artist's inspiration and creativity.
Jagdish Moktan has created a series of 3 portraits based on his family's photographic archive from his home in Ramechhap. The photographs of his Mother and Aunts have been damaged by time - moisture and humidity have played their role in creating the cracks and chipping of the photographs. Unfazed by the damage, Jagdish has painstakingly created portraits of his Mother and his Aunts using graphite pencil on canvas. What is interesting is that the artist has chosen not to work with restored images but instead has been cognizant of the impermanence of the image and of life itself. Thus, the image itself, in its time-ravaged format, is a blessing as it has nurtured the artist's inspiration and given him the opportunity to pay homage to his family. The scale of these monumental works reveals Jagdish's mastery as an artist whose skill does not rest with just one medium.
Nabina Sunuwar is from Okhaldhunga and is primarily a printmaker. Her family migrated to Ramechaap and then to Kathmandu. However, the bucolic memories of the past that are rooted in the village, continue to make her nostalgic about memories of her family, the sights, sounds, open spaces, and the earthy smell of the village. Her works are therefore a remembrance of things in the past that oscillate between visible, clear, blurred, and invisible. After Nabina journeyed to her village in Okhaldhunga she discovered that farms had been abandoned, that her ancestral home was occupied by a new tenant, and that her beloved homescape had changed forever. Her initial experience made her feel detached from the place where she felt at home. This was to change after she spent some time talking with her grandparents. In order to pay homage to her grandmother, she created a series of woodcut prints that portrayed hazy remembrances of her face, hands, hair, jewelry, and details of her clothes.
In this show, she has focused on the fields, crops, and houses within the village landscape to contemplate her dilemma between familiarity and strangeness, presence and absence. In order to pay homage to her roots with her works, Nabina first manipulates the photographs of landscapes, houses, and fields that are overlaid with narrow vertical lines that run across each work to create a semblance of an optical illusion. The artist then traces the work and arduously carves it on a wooden panel – the process is a laborious one. Nabina chose to work in black and white - her 10 prints on Nepali paper highlight the fact that life is an optical illusion that confounds and traps us all in between the lines.
Pooja Duwal is a resident of Bhaktapur, the "city of devotees" where the traditional art and culture of the city permeates the very fabric of life itself. In her graduation show, she exhibited a series of small realistic paintings that were hung as a collage of banal urban places and functional objects from home and college. Her portrayal of the places and objects is coincidental, and she connects and embraces her subject with a zen-like empathy. Pooja continues her work in this artistic vein and has created a new series of 31 paintings. The artist is cognizant of the rapid urban transformations that are happening around her and has chosen to paint places and objects as they are, as a final embrace, before the change occurs.
Tashi Lama's latest works connect to the series of paintings that he made for his graduation show in 2019. His contemporary thangkas were executed using mineral pigment on cotton canvas. It is important to note that Tashi traces his artistic lineage to his paternal side – his uncles are traditional thangka painters. Thus, Tashi's first exposure to art was to the thangka paintings made by his family. In keeping with this lineage, Tashi used the visual vocabulary and techniques gleaned from his family and from his training at Kathmandu University, to pay homage to his Mother, who migrated from Kavre to Kathmandu in search of better economic opportunities. It is the earnings that his mother made by weaving carpets that provided Tashi with educational opportunities. Though the decade-long civil war almost obliterated the carpet industry, Tashi's mother continued to take individual orders and weave carpets.
In his exhibition in 2019, Tashi focused on the individual tools that his mother used to make the carpets. In this exhibition, Tashi painstakingly draws a grid on his canvas to recreate the same process that is used in carpet design. Using mineral pigments, he delicately shades his work to create the wool-like texture in his paintings. Thus the warp and weft of weaving, the tufting, the carding, and the traditional motifs of the Tibetan carpets: dragon, flowers, clouds, and the eight auspicious symbols continue to inform the artist's work. Tashi also includes a triptych that shows his work in progress. His diptych reveals two balls of wool individually on either side of the weighing scale. The balls of wool are worth their weight in gold. But what do the balls of wool signify? The labor of his parents? Or do the golden balls of wool represent the livelihood that the carpet industry has provided to the carpet factory workers, to the nation, to Tashi's own parents, and to him?
Aakrit will begin from the 15th of September, 2022 and close on the 31st of October, 2022.